Dean Marine & Excavating, Inc. has completed numerous projects for a multitude of clients. We routinely work for the U.S. Army Corps of Engineers, U.S. Coast Guard, City of Port Huron, Detroit Downtown Development Authority, DTE, State of Michigan and many more. Our work encompasses all aspects of marine construction and dredging. We can also provide design-build services to ensure your project gets done your way. Recent key projects include: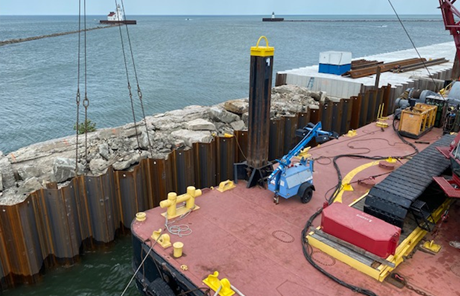 Cleveland Harbor West Breakwater Repair FY21
U.S. Army Corps of Engineers, Cleveland, OH
This USACE project in Cleveland, OH consisted of drive line clearing, installation of new sheet pile with existing crib monitoring, and break wall repair including concrete and grout removal and reinstallation.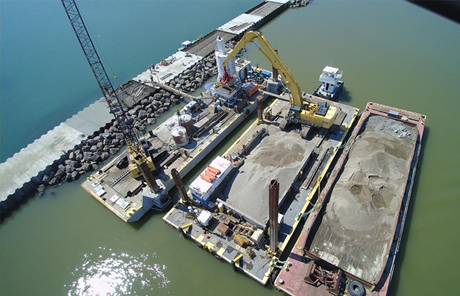 Rochester E. Pier Repair FY20
USACE Buffalo District, Rochester, NY
This USACE project in Rochester, NY consisted of repairing approximately 1,000 feet of Rochester East Pier. The work included temporary removal of the wave absorbers on the channel side, installation of steel sheet pile outside the existing pier on both sides, placement of granular fill inside the pier, construction of a new concrete cap, and reinstallation of the wave absorbers.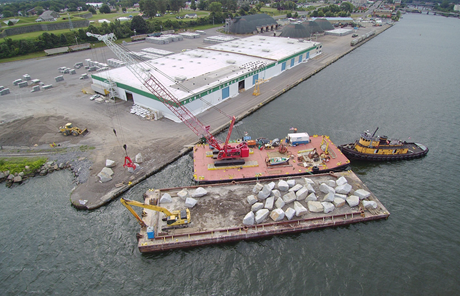 Oswego West Arrowhead Breakwater Repair FY19
USACE Buffalo District, Oswego, NY
This U.S. Army Corps of Engineers project in Oswego, NY consisted of the repair of the West Arrowhead Breakwater by installing a rubble mound overlayment of the existing breakwater using bedding, underlayer, and armor stone.
Oswego Harbor West Arrowhead Breakwater Repair FY18
USACE Buffalo District, Oswego, NY
The Oswego Harbor West Arrowhead Breakwater Rehabilitation project consisted of furnishing all plant labor, materials, 12 to 20 Ton armor stone, underlayer, and bedding stone, and equipment necessary to perform breakwater rehabilitation construction services on the West Arrowhead section of the breakwater.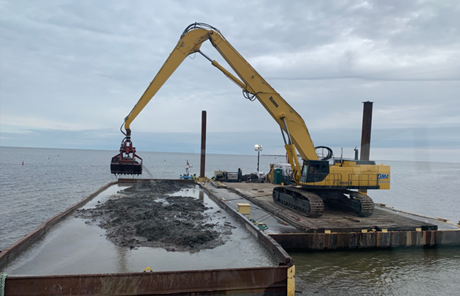 Dunkirk Harbor Dredging FY18
USACE Buffalo District, Dunkirk, NY
Harbor mechanical maintenance dredging with open lake and near shore placement / disposal.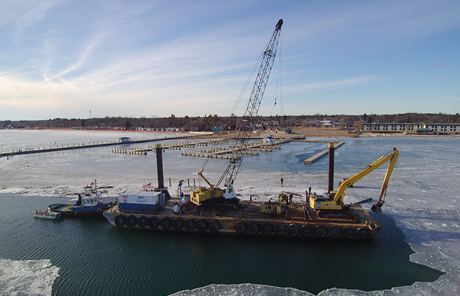 East Tawas State Harbor Phase 2 Reconstruction - Demolition and Removals FY18
State of Michigan, DTMB - Design and Construction Division, East Tawas, MI
Demolition and removal of two fixed piers, floating docks, fuel station buildings, and utilities.
Other key
projects include
Barcelona Harbor West Breakwall Repair FY17
USACE Buffalo District, Barcelona, NY
Demolition of existing sheet pile and concrete cap removal of wave absorbing stone, sheet pile replacement, above and underwater connections, backfill with stone, new concrete cap, mechanical dredging of washed in sediment. Barcelona Harbor with open lake placement / disposal.
Algonac Winter Moorings FY17
United States Coast Guard, Algonac, MI
Demolition of existing decking, new seawall installation with cap and tie backs, installation of new wood decking, new dock fenders, and cluster piles. Restoration of concrete and landscape.
Bulk Freight Wharf Dock Reconstruction FY17
Lehigh / Hanson / Essroc Cement
Replace bulk freighter unloading dock, Rochester, NY
Kawkawlin River Dredging FY16
State of Michigan
Mechanical maintenance dredging of Kawkawlin River, Bangor Twp, MI
Hanover Harbor Dredging FY16
Town of Hanover, NY
Harbor mechanical maintenance dredging with open lake placement / disposal, Hanover, NY
Dunkirk Harbor Dredging FY16
City of Dunkirk, NY
Channel mechanical maintenance dredging with open lake placement / disposal, Dunkirk, NY
Alexander Canal Dredging FY16
Drainage Board for Alexander Relief Drain
Mechanical maintenance dredging of Alexander canal, St. Clair Shores, MI
Harper Avenue / Bon Brae PCB Remediation and Cleanup FY15
City of St. Clair Shores / EPA Environmental Quality Management
Sheet pile excavating, water disposal, water dewatering management, and temporary rerouting of storm drain system. Two deep coffer damns for excavation of PCB contaminated soils, St. Clair Shores, MI
Light 30 Demolition FY15
United States Coast Guard
Demolition and removal of shipping channel light 30, Lake St. Clair, MI
Sebewaing River Maintenance Dredging FY14
USACE Detroit District / Township of Sebewaing
Maintenance dredging of the Sebewaing River Channel, excavation, and relocation of approximately 100,000 cy of material to Sebewaing CDF site, construction of earth dike system around new upland disposal area, and site restoration, Sebewaing, MI
Barcelona Harbor Maintenance Dredging FY14
USACE Buffalo District / City of Westfield, NY
Maintenance dredging Barcelona Harbor with open lake placement / disposal, Barcelona, NY
Liberty Harbor, Bay City and Quanicassee River Maintenance Dredging FY14
State of Michigan DNR / City of Bay City
Maintenance dredging of harbor entrance and fairway Liberty Harbor and entrance channel Quanicassee River, Bay City and Quanicassee, MI
Environmental Quality Management Sturgeon Fish Habitat FY14
Fish habitat on the St. Clair River, Cottrellville Township, MI
Detroit Yacht Club FY13
Detroit Yacht Club
Harbor Mechanical maintenance dredging project of harbor, Detroit, MI
Alpena Marina FY13
City of Alpena, NY
Mechanical maintenance dredging of Alpena Harbor, Alpena, NY